The use and shipping of agricultural chemicals & agro-chemicals dates to as far back as 4500 years ago. Since then, farmers have depended on chemicals to treat crop diseases, kill pests, eliminate weeds, and do so much more for a long time. The best manufacturers and distributors of agricultural chemicals know the importance of working with high-efficiency logistics companies to handle the shipping of their agricultural chemical products. As a result, they work with Total Connection, a top agricultural chemical products shipping company.
The Role of Agricultural Chemical Shipping in the global food supply
Agricultural chemicals are some of the best inventions that could ever happen to you and your farm. Take a moment to think about what would happen if there weren't pesticides to get rid of those annoying pests that infest your crops or consume your animal feed. Or how that area of your farm with low soil nutrients would have dipped your net yield if you hadn't used chemicals to boost its nutrients.
The transport company you depend on to ship these agrochemicals is just as important as the chemicals are to your farm. That is why you need an agricultural chemical product shipping company that is swift, keeps your chemical products in good condition, and offers you flexible services. It would go a long way in keeping your productivity and net revenue high up there. Frankly, anything short of this standard of agrochemical shipping company could cost your business massively.
Understanding Agricultural Chemical Shipping: Hamzat Transportation
Shipping of any kind can be a complex process, plagued with rules and regulations. But the rules get stricter and more numerous for the transport of hazardous materials, also known as HAZMAT. And the United States Department of Transportation (USDOT) rates some agricultural chemicals as Hazmat. The department has nine classes of Hazmat materials, and chemicals, like the pesticides you use on your farm, conveniently fall into some of these classes.
How the USDOT Hazardous Material Regulations Affect Your Shipping of Agrochemicals
First off, the USDOT Hazardous Material Regulations (HMR) controls the transportation of hazardous materials in the country. You are subject to its rules if you are transporting hazardous agricultural chemicals over 150 miles away from your farm. And in this case, your transport trailer has to have some placards that communicate the content of the trailer.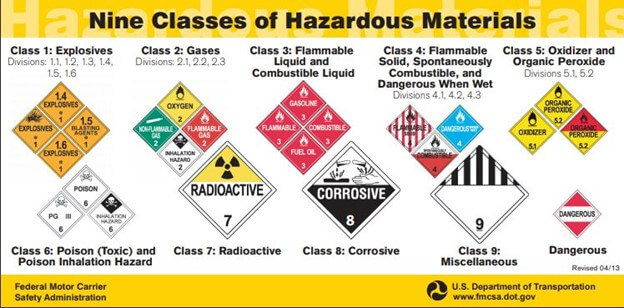 Image source: Federal Motor Carrier Safety Administration
In addition, the regulations require that agricultural chemical carriers have a security plan. And if you are a farm, you must also have a security plan as long as you belong to any of the categories below:
A farm that earns over $500,000 annually in gross receipts from selling agricultural products and commodities.
A farm that transports hazardous materials over a 150-mile radius of its location on the highway or rail.
A farm that transports hazardous materials that don't directly support its farming operation.
The security plan reduces your exposure to liability should an illegal act involve your chemical products. It also helps to deter terrorist or illegal acts involving the use of your hazardous chemicals.
What Makes Up a USDOT Hazardous Materials Regulations Security Plan
Three important categories should be in your HMR security plan. The first covers personnel security, the second addresses unauthorized access, and the last handles en route security.
● Personnel Security
The security plan must contain ways to confirm the information on the job application or resume given by the carriers of your hazardous agricultural chemicals. However, this regulation exempts employees or carriers of hazardous agrochemicals who were hired before the 25th of September, 2003 (when this security plan regulation was developed).
As you might imagine, this is just to help to confirm the identity of the personnel who are directly involved in the transportation of your agrochemicals.
● Unauthorized Access
This part of the plan helps to protect the materials from being used by unauthorized personnel for any reason, especially for illegal reasons. The plan requires that the Hazmat being transported must always be under the visual observation of the personnel transporting it. The materials must also be locked up at all times during transportation.
For instance, a carrier must never be too far away from the chemicals during transportation, even if they stop on the way to take a bite or use the bathroom.
● En route Safety
This part of the plan covers the security of hazardous materials while shipping agricultural chemicals during transportation. It requires that all necessary security measures be put in place from the moment you pick up the chemicals to the instance you get to your farm. And in this case, that means keeping the time your shipment spends in transit to the barest minimum. You only go straight to your farm from your supplier.
How Total Connection Makes Shipping Agricultural Chemical Products Easy for You
The regulations surrounding the shipping of hazardous materials are not only many, but they are constantly being updated. If you had to keep up with them all on your own, you might have to always take the time to check in with the regulations before every single trip. This could cost you more time and labor, but you must not do without it. Otherwise, you might get your farm in trouble for infringing on any of the regulations. But who says you have to do it all on your own?
Total connection helps you observe all these regulations while saving you time and money in the process. We verify that our carriers have excellent records and know about every regulation update before every shipping. All you just need to do is to contact us and expect the delivery of your agricultural chemicals. You can sleep with both eyes closed, knowing that your agricultural shipments are in good hands until they get to your farm.
We offer you all that, and we still offer you more. We nurture a direct connection between your farm and the producers of your agrochemical products. And with our decades of experience in agricultural chemical shipping, we know the most efficient and economical ways to get your chemicals to you.
It doesn't matter if yours is a brooding business with limited resources and tighter margins for errors, or a massive Fortune1000 establishment with gazillion gallons of products to ship. We have worked with chemical producers and farmers like you, and they were all satisfied with our services. We streamlined their agricultural chemical supply chain, so they wasted less time, incurred fewer risks, and spent less. Yours won't be different.
The Benefits of Shipping Agricultural Chemical Products through Total Connection
Shipping agricultural chemical products is a complicated process that can only be easy when you use the shipping company. And that is who we are.
● You would be working with the best
Not to be cocky, but it's that simple, really. Total Connection is the primary source of shipping agricultural chemicals for various manufacturing plants in the industry. You'll be dealing with one of the kingpins of the agricultural trade lanes in all of North America.
Our highly experienced and knowledgeable staff is at your service from the moment you contact us for a quote till you receive your chemical products. We train our workers to handle various delivery situations so you have nothing to worry about. Yours is to give us a call, and ours is to handle the rest.
● You receive agrochemicals quickly and in perfect conditions
Timing is everything in shipping. Keeping a supply chain on schedule is vital to avoiding any disruptions to the food supply chain. Because we understand this and the enormous effect it could have on your farm, we do everything we can to keep to your timing. What this means for you is that we ship your agrochemicals to you on schedule. We deliver it when you say you want it delivered.
Impeccable timing is great, but maintaining the quality of your products is just as important. That is why arm our trailers with all the necessary equipment to maintain the quality of your shipment during transit.
● We have a broad experience shipping agricultural chemicals
Having been in the business for almost three decades, we have had experience shipping all kinds of agrochemicals. So, we have most likely shipped any agrochemical products you have in your mind to ship, and we know the best way to deliver it.
Here is a list of agricultural chemicals we ship:
● Pesticides
● Fertilizers | You should check out our complete guide to shipping fertilizers
● Fungicides
● Soil fumigants
● Desiccants, harvest aids, and plant growth regulators
And if by a long shot, you are intending on shipping agricultural chemicals that do not appear on the list above, it's no problem. Contact us to discuss how to ship it to you. We help you increase your crop yield potential, protect your soil, and make it suitable for farming through the efficient transport of these chemicals.
Can Total Connection Help Ship Your Agro-Chemicals?
Shipping all kinds of agricultural chemical products for all kinds of clients is part of what we do. It is our job, and we fully commit to it. We invest time and effort into building productive and mutually profitable relationships with our agricultural customers and their agrochemical suppliers. This way, your agricultural chemical shipping supply chain only involves you and the supplier, and you spend less while saving more time.
In addition, we make sure to study your business model to know how best to tailor our solutions to best serve your specific needs. We don't offer a one-size-fits-all kind of solution, where we inconsiderately ask a small farm to provide something only large farms can easily provide. Before we give you a solution, we have done our homework and considered everything about your farm to ensure that the shipping process is completely stress-free on your part.
Learn why thousands of other manufacturers, distributors and farms like yours trust us with the shipping of their agricultural chemicals today when you request a quote through the form below. Our agrochemical shipping experts will respond to you swiftly, and we will listen to you and offer intelligent agrochemical shipping solutions before you even know it.