Do you need a reliable and cost-effective liquid bulk transport service to ship your bulk chemical product? Look no further.
In all our 25 years of excellent logistics service at Total Connection, one of the services we most pride ourselves in is our liquid bulk transport. Here, we lavish our combined century of experience on making sure that whatever chemicals you wish to transport arrive at their destinations safely and without a drop in the quality of your goods.
Our bulk chemical transport service covers varieties of products, such as sensitive chemical materials, dangerous HAZMAT goods, food-grade products and so much more. But that's not all we offer you. We also have the right connections with many major chemical suppliers in different areas to help you streamline your business' chemical supply chain.
Our Commitment to Safe Chemical Transport
We understand it is your priority to offer your customers the best and most satisfactory services that help them achieve whatever purpose they use the services for. At Total Connection, our topmost priority is to help you achieve this through the safe transport of your bulk chemicals.
For this reason, we have affiliated ourselves with a regulatory body with incredibly high standards as regards chemical distributions, the National Association of Chemical Distributors (NACD). This shows our commitment to preserving lives, properties, and the reputation of your business through the safe transport and storage of your chemical products.
To ensure this high standard of safety, we have over 10,000 bulk liquid tanker carriers. And each has gone through a thorough screening process which comprises a 5-point carrier checklist. This checklist helps us to weed out substandard carriers while leaving the best ones with high-quality equipment to transport your chemicals.
Our 5-Point Checklist for Bulk Liquid Tanker Carriers
● High industry credit worthiness.
Credit worthiness of a company is a strong sign of a stable bulk carrier's infrastructure, so this is one of the first signs that we check.
● Proven track record of safety and accident history.
We make sure that only transporters who have a clean history as regards accidents and safety can transport your chemicals.
● Highly trained drivers with in-depth knowledge about handling and transporting sensitive hazardous materials.
Total Connection leaves no room for irresponsible driving, irrespective of whether we are transporting sparkling clean water or the most sensitive hazardous chemicals.
● Updated equipment maintenance records.
Wouldn't it be incompetent of us to tell you we couldn't transport your products on time because we had some equipment breakdown? That is why we never let our carriers provide us with that same excuse. Instead, they provide us with up-to-date equipment maintenance records for all of their equipment.
● Valid and reputable industry reference.
Even after a carrier scales through the four checklists above, they still need a reputable industry reference before we allow them to transport your liquid bulk chemicals.
We leave no stone unturned when it concerns the safety of your products. Total Connection fully commits to transporting your liquid bulk chemicals in the best conditions and as fast as possible.
What Liquid Bulk Transport Offerings Do Total Connection Have?
Here's the short answer: Total Connection transports anything and everything that relates to chemicals. And as for the long answer? The liquid bulk transport that Total Connection offers fall into three major categories:
● HAZMAT and Dangerous Chemical Transport
A high level of management standard is required for the transport of HAZMAT and dangerous chemicals. This is not surprising, as the effect they may have on the environment when they are mismanaged could be devastating. A chemical spill at a strategic highway could render the highway unusable. It could potentially lead to the loss of millions of dollars, as businesses that depend on the highway are unable to access it. Those unlucky enough to be caught at the scene of the accident may have to pay with their lives.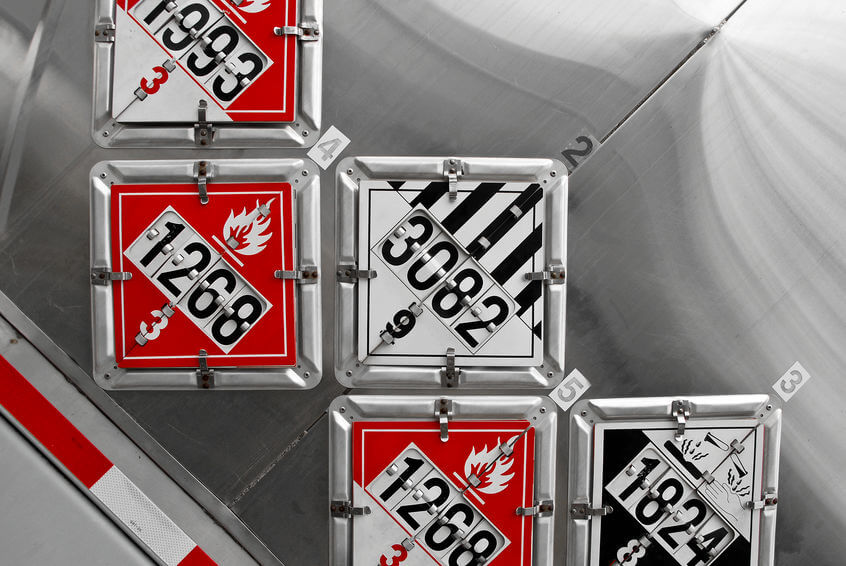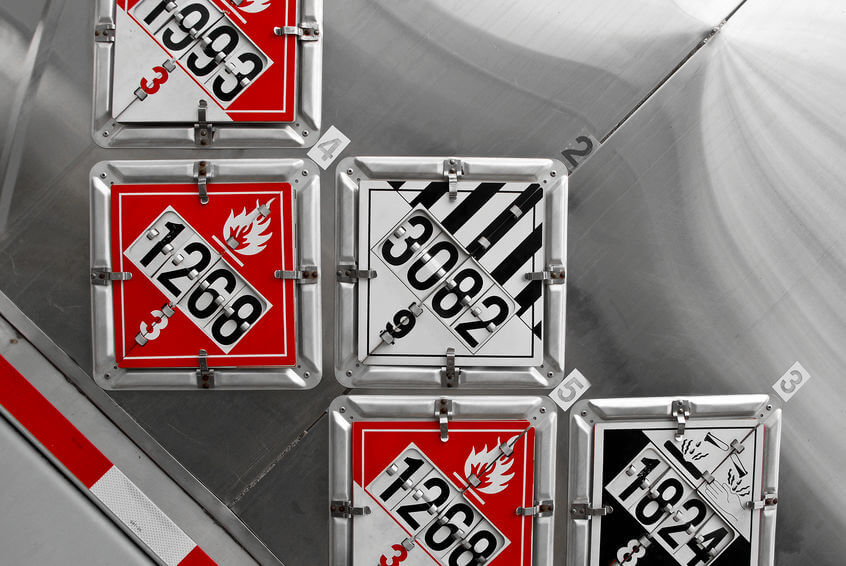 This is why regulatory bodies keep updating their regulations on the transport of hazardous chemicals to ensure that lives and properties remain safe. A violation of the regulations could land your business in a lot of trouble. To help you avoid these unnecessary but costly mistakes, Total Connection offers you its highly trained and deeply experienced team to handle your HAZMAT and dangerous chemical transports.
The HAZMAT chemicals Total Connection transports include:
Corrosive materials
Explosives
Flammable liquids
Flammable solids
Gases
Oxidizers and organic peroxides
Poisons
Radioactive materials
● Temperature Controlled Chemical Transport
You need a reliable temperature-controlled chemical transport service for the transport of temperature-sensitive chemicals.
Total connection offers you two main options of temperature-controlled chemical transport. One is through the use of tanker trucks fully equipped with in-transit heat. This is very useful for the transport of chemical substances that need to get to their destination at the same or a higher temperature at which they were loaded.
The other method is through tanker steaming, which steams the chemical substance at regular intervals during transport. As you might imagine, products whose temperatures you want to raise at delivery go in here.
There is so much more to gain when you depend on the decades of experience Total Connection has for your temperature-controlled chemical transport.
● Agricultural Chemical Transport
Agriculture without chemicals is almost impossible, especially agriculture on a large scale. Farmers rely on chemicals for crucial purposes, including growth development, storage, preservation, and more. Without these chemicals in place, hunger looms.
Entrust the transport of your bulk agricultural chemicals with the wrong company and your farm may suffer for it. A slight drop in the quality of the transported chemicals could plummet your productivity and harm your profitability. Don't take this risk with just any kind of liquid bulk transport service. Go for a reliable one.
So, if you need a company that can help with your bulk agricultural chemical transport, your search ends here. Total Connection has had decades to build up experience, trust among other businesses like yours, and healthy collaboration with many leading suppliers of agricultural chemical supply. The ultimate goal is to maintain the quality of the chemicals during transport so that your farm reaps increased productivity and profitability.
What You Need to Know About Bulk Liquid Transport Equipment
An enormous amount of effort goes into bulk chemical transport. There are many processes involved, and it is usually not as simple as getting your pizza delivered to you. Without helping the transport company to the proper knowledge of the chemical you want to move, there could be some costly mix-ups. This could lead to a reduction in the quality of the chemicals, which may dent your productivity and profitability. And that is only the best-case scenario.
Things could get way worse when a spillage occurs, potentially leading to inconvenient issues with regulatory bodies, total loss of products, and many more. And in all these scenarios, there isn't one that could cost you less than thousands of dollars at best.
That is why it is important that you at least have a little understanding of the bulk liquid you intend to transport. That little understanding of your products would go a long way in helping us know the best transport equipment. We will ask you some simple questions to help us extract the information we need without wasting your time.
Key Questions that Help Us Pick the Best Equipment for Your Products
What is the product you're shipping?
What is the nature of the chemical? (Is it toxic? Flammable? Temperature-sensitive?)
What is the layout of the loading plant?
What is the layout of the delivery plant?
Does the receiver have the ability to offload without a pump?
What kind of tank is the product delivering into?
What is the maximum offloading pressure your receiver can handle?
Is there any safety equipment or requirement at the receiver's facility we need to know about?
From experience, we know that answers to these questions help us simplify the transport process by about 60% and reduce the risk of any mix-ups or costly mistakes by 75%. There are some more questions like these, and you can contact us to get more.
How these Questions Help Us Determine the Equipment We Use for Your Bulk Chemical Transport
After you provide answers to those questions, we can filter through our thousands of equipment to reach those that are perfect for your chemical products.
Questions on temperature, for instance, help us determine the best way to transport your chemicals according to your temperature requirement. We have in-transit heat trailers with steam coils in them to maintain the temperature of your chemical. There are trailers with other heating options which make them suitable for products that can be cooler or hotter at delivery than they were at loading.
When we ask questions that involve volume, we simply want to know what trailer size to bring to the party. Excessively big trailers could agitate your chemicals during transport, and it could lead to the foaming of the products. Anything could go wrong from there, especially with some sensitive chemicals. But tight-fitting trailers reduce agitation, cutting out unnecessary risks. Some of our trailers have compartments in them, so you need not worry if your product volume is less than our smallest trailer.
When you find pumps or compressors in the questions, we only want to know the best equipment for unloading your chemicals. We wouldn't unload corrosive liquids with a pump, for instance, as the liquid could ruin the metal in the pump. Similarly, air compressors for unloading flammable liquid could be dangerous, as the static electricity could cause little sparks. And you know what happens when sparks meet flammable liquids.
Liquid Bulk Transport Tailored to Your Specific Needs
Total Connection offers you the best mix of experience, expertise, and affordability for the transport of bulk chemicals tailored to your specific needs.
If you have an urgent liquid bulk transport shipment or need a quote, call us. Our ever-friendly bulk chemical experts are eager to help get a quote for your shipment. And if you'd prefer an email, fill out our comprehensive liquid bulk quick-quote form below.
We look forward to hearing from you and servicing your liquid bulk transportation needs.